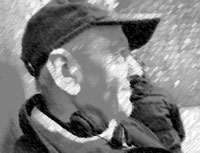 I am Derek Pearce
"Derek Pearce's stunning Furniture Sculptures are famous worldwide collected by everyone from Rock Stars to Royalty. Derek is a man of unique creative vision. To call him a designer is to understate the case wildly, though it was his remarkable "WATER TABLES" that first caught my eye - an idiosyncratic range of coffee tables featuring immaculately sculpted ducks, swimmers, and hippos plunging in and out of glass depicting the water's surface. They're gravity defying in both senses of the phrase: substantial carved and cast figures seemingly floating through water - and impossible to look at without smiling.
When pressed, Derek sums himself up as "an ideas developer by trade" - even at Art School he was developing ideas in many spheres, perhaps surprisingly, primarily in theatre and music. 15 years of touring with his own band, writing and performing songs featuring the humorous wordplay that would become the trademark of his later design work.
In a world of anonymous, mass produced commodities, the vision, wit and craftsmanship of Derek Pearce's singular works provides welcome relief. Investments they undoubtedly are, reflecting the skill and labour behind their creation, but irresistible to anyone seeking a modern heirloom that will provoke pleasure, amusement and comment for years to come."
(Elinor Malcolm, Westside Magazine)
Derek has worked in theatre, on stage, back stage, or on no stage at all, as a Performer, Stage Carpenter, Musical Director, Lecturer and Teacher (he taught Bill Baily woodwork,-- that's probably why Bill is so good on the Piano) Derek has worked on several projects with Welfare State International creating Site Specific Theatre. He is the Design Consultant on the film "When The Whales Came" where he taught Paul Schofield how to carve, and Helen Mirren how to Polka.
Derek's "WATER TABLES" were first seen in 1997 and he has since exhibited and sold throughout Europe, America and Japan. Most of the designs are available to order or you can commission a special piece. Have a look at Special Commissions...