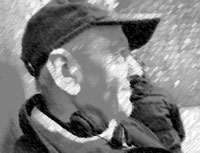 Commission Derek Pearce
"In a completely original niche between furniture design and sculpture you'll find the remarkable Derek Pearce".
(The Independent)
If you are looking for a piece of furniture that is highly crafted, outrageously original and subtly humorous, then you have come to the right web site. Derek Pearce's work is about developing stimulating ideas which are executed skilfully.
"I usually work in a very sculptural way, often without any drawing, this allows me to be more sensitive to the materials that I am working with. There may be a sketch or a model to show the client, although based on my previous work and reputation, clients are often happy to join in the risk to see how ideas turn out."
The 'Water Tables': The Hippo, The Dolphins, The Ducks, The Seal, The Frog, etc., all using glass as a 'water surface', continue to be sold world wide alongside special commissions from Architects, Interior Designers and private clients.